Suffolk cuts hit youth clubs and discount travel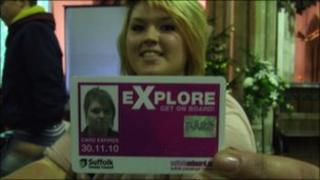 More than £7m in cuts are being planned for Suffolk County Council's Children and Young People's services.
Open access youth clubs would close, the Connexions service would be reduced and there would be a remodelling of the social care teams.
The £1.7m funding towards Explore cards, offering discounted travel for young people, would also be withdrawn.
Suffolk County Council is planning to cut its budget by £42.5m for the 2011/12 financial year.
"We'd be stuck without our Explore cards," said Danielle, one of the teenagers who goes to the St Mary's Porch Project in Hadleigh, a drop-in evening run by the church.
"Everyone has one. It sounds like not much difference, but it does help us. We don't get much money."
The Porch Project was started in 2008 in response to the numbers of young people congregating around the church porch in the evenings.
Although it has had some financial support from local councils, it is mainly funded by donations and supported by the community.
As part of Suffolk County Council's New Strategic Direction, communities are being encouraged to take on existing youth clubs which will no longer be funded.
"It's just a safe place to hang out with friends," said Owen, 15.
Pc Matt Paisley, from Babergh East Safer Neighbourhood Team, said the project has had a positive effect.
"There's a lot less anti-social behaviour elsewhere in the town," he said.
"Some of the areas which, historically for 15 or 20 years, have been an issue with teenagers congregating, noise, litter, sometimes alcohol - those places have really quietened down over the last 18 months.
"We've seen a positive improvement in the attitude of teenagers towards us."
Graham Newman, portfolio holder for children and young people's services at the Conservative-led Suffolk County Council, said volunteers and local councils will help to keep some youth clubs open.
"It's very expensive for Suffolk County Council to run these clubs and we know for a fact there are many volunteer-organised clubs which run for much less money," he said.
"There's a huge volunteer organisation in Suffolk, led by an organisation called Young Suffolk, who are absolutely in the forefront of providing training, guidance and helping with fundraising and volunteer finding.
"So we've got a lot of capacity there to do things.
"The sad fact is the actual average attendance at our 30 odd clubs over every week in the year is actually about 550-600, which is really marginal compared to something in the order of 50,000-60,000 young people who could be attending.
"There's tens of thousands of young people doing other things in the community other than attending these sorts of clubs."
The budget will be debated at the next full Suffolk County Council meeting on Thursday, 17 February.