Royal Navy's HMS Quorn to get freedom of Ipswich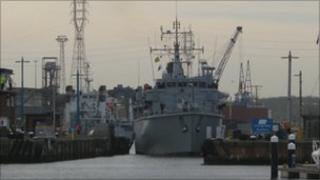 Ipswich's affiliated naval ship is in town for a weekend visit when it will receive the Freedom of Entry to the Borough.
HMS Quorn, a Royal Navy minesweeper, has had links with the town since 2009.
As well as the civic ceremony, the ship is open to the public and is running tours for schools.
"We are very fortunate to garner unstinting support from the town," said Lt Cdr Jason Humphries, HMS Quorn's commanding officer.
"Sunday's freedom ceremony is, of course, a real high point.
"We are delighted that the council has bestowed this honour on us and I know that we are all very much looking forward to doing the ship and town proud."
In pictures: HMS Quorn in Ipswich, 2011
Submersible torpedoes
HMS Quorn is a 750-tonne Hunt class mine countermeasures vessel with a crew of 45. It is based at Portsmouth and has recently been operating in the Gulf of Arabia out of Bahrain.
The ship's job is to clear mines using diving crews who attach explosives or remote-controlled submersible torpedoes.
It is also armed with machine guns so that it can function as a patrol craft.
The freedom ceremony on Sunday 6 February begins at 1130 GMT with a parade from the Black Horse Road car park to the Town Hall steps where the ceremony will take place.
Councillor Jane Chambers, the Mayor of Ipswich, said: "We are all looking forward to this opportunity to renew old friendships and to make new ones.
"Ipswich is very proud of its long and distinguished maritime history and, in receiving the Freedom of the Borough, HMS Quorn joins a very exclusive band and is very worthy of the honour."
The ship is docked at Orwell Quay and is open to the public on Saturday, 5 February from 0930hrs to 1600hrs.