Suffolk firm's wave energy machine gets backing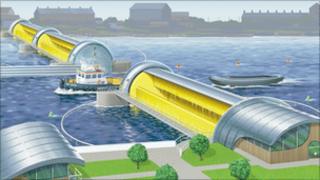 A company in Suffolk is developing a tidal energy generator that could also act as a flood barrier protect the Broads.
The Lowestoft firm, 4NRG is looking at how it can develop its prototype into a flood barrier with an integrated shutter system.
It would be built across the River Yare at Great Yarmouth.
A Broads Authority grant of £7,500 has supplemented £92,000 from the East of England Development Agency.
The prototype is being built by shipbuilders Small & Co of Lowestoft and 4NRG believes it could be on the market in three to four years.
Mark Aspinall, director of 4NRG, said: "This would be an opportunity to create tidal defences which would benefit the whole of the Broads.
"The barriers would help pay for themselves with revenues gained from generating electricity into the national grid.
"They would generate a reliable supply of renewable energy in almost any weather and at times of a very high or surge tide the shutters would close to serve as a flood defence."
The company also thinks the tidal harvesters could be used around wind farms in the North Sea and linked in to the National Grid network.