Petition over closure of Suffolk household waste sites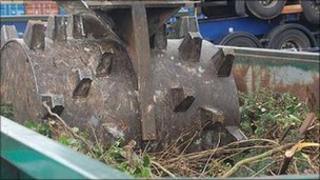 An online petition is opposing plans to close seven of Suffolk's 18 household waste recycling centres.
Suffolk County Council has said the closures, alongside reduced hours at the sites remaining open, will save £2.3m.
But Caroline Byles, who posted the petition on the county council website, said: "It doesn't make financial sense.
"Any saving to the county council is cancelled out by the increased cost incurred by the district council."
The closures were announced in December and will form part of the £125m savings planned over the next four years.
Ms Byles is concerned the cuts will lead to an increase in fly tipping.
"Closure of these sites will mean people are sorely tempted to put their rubbish in the local lay-by or a ditch," she said.
"It's also an environmentally poor idea. I live in Eye and the tip is a 15 minute round trip away.
"If that tip was to close I would have to drive all the way to Stowmarket, and that's a 30-mile round trip."
Lisa Chambers, portfolio holder for waste at the Conservetive-led council, defended the closures.
She said: "Suffolk County Council is facing its worst financial situation ever. This is not a position that any of us wanted to find ourselves in.
"We are looking very carefully at sites and have a criteria laid down.
"We're looking at the number of people who use each site, the recycling rates and we're looking to get an even spread of sites across Suffolk.
"We're aiming that most residents would be able to access a site within about 20 minutes' drive time."
Ms Chambers also said she would like people to explore other ways of reducing waste, highlighting the new community composting network scheme.
"There are other opportunities to recycle waste," she said. "We still have the ambition that we want to recycle 60% of all waste by 2015."
A final decision about the household waste recycling sites will be made on 17 February.
The petition against the closure of seven household waste recycling centres can be seen on the Suffolk County Council website.