Suffolk acts head to BBC Introducing Masterclass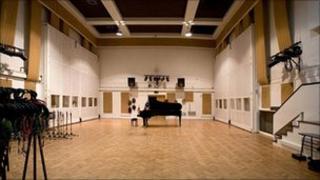 Six acts from Suffolk are to be given expert advice from some of the biggest names in the music industry.
Mark Ronson and Tinchy Stryder will join DJs including Zane Lowe and Pete Tong in hosting the first BBC Introducing Masterclass on 3 February.
The event is taking place at the Abbey Road and Maida Vale studios and will feature workshops and seminars.
Millionaires by Morning, The Cads, Gay Keyring, Emma Cherry and Henry Homesweet will attend from Suffolk.
The musicians' masterclass will give unsigned acts the opportunity to network with business contacts and craft their talents with expert help.
Live video from the masterclass will be streamed on the BBC Introducing website, which also has a schedule of the day's events.
Singer/songwriter Emma Cherry recently self-released her album, Paper Dreams, and said she was hoping to get some advice on how to build on its distribution.
"I'm really excited about it," she said.
"I think it's going to be very informative and hopefully open some doors for everyone going."
"I'd like to know how to take it to the next level and get in contact with the right people."
Scott French, aka MC Truth, is a battle MC and rapper for Millionaires by Morning.
"I'm looking forward to a day out with some fellow local musicians," he said.
"I've heard they've got trains underground in London, which is buzzing me out.
"I always feel that Introducing is more of a local thing, so it's good to see how it hooks up nationally."
The Cads represented BBC Suffolk at last year's Latitude Festival. Since then they have toured Germany with Darwin Deez and are soon to return to the studio.
"It's the best opportunity for a young artist to get knowledge about today's music industry," said drummer James Brown.
"I think it will help us understand what the managers and labels and that are looking for in a band when it comes to signing them."
Tune in to BBC Introducing in Suffolk on Thursday, 3 February to hear reaction from the masterclass.