Suffolk Show bans pet dogs from Trinity Park event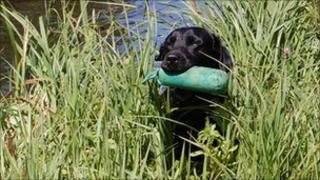 Pet dogs are to be banned from the Suffolk Show, it has been announced.
The Suffolk Agricultural Association (SAA) said it was bringing in the rule to deal with dogs trapped in hot cars and hygiene issues caused by fouling.
"We've got a responsibility to everyone at the show not just dog owners," said Chris Bushby, executive director, SAA.
The Kennel Club claimed dog owners were being "excluded from society" and called on the organisers to reverse their decision.
The dog show and other canine events will still be held at the county show which takes place on 1 and 2 June.
Mr Bushby said: "There are a lot of public catering areas and people sit around having picnics.
"There's a lot of soiling and so, for hygiene reasons, we want to take that out.
"The majority of people are very responsible but, it's like everything in society, you have a few that make it difficult for the rest."
Dog crèche
Bill Lambert, Kennel Club spokesman, said: "There are thousands of dogs at the show and I've personally never seen any evidence of dog fouling.
"Providing the organisers provide facilities, such as bins and bags, people will pick up after their dogs.
"People are going to turn up believing they can take their dogs in, so then they're going to have to leave their dogs in the car."
The SAA said measures will be in place to deal with that.
Mr Bushby said: "We recognise that people in the first year will be getting used to this change.
"We will certainly be providing a dog crèche with the help of the Blue Cross.
"There are many dog lovers in this association, but we took the decision for responsible reasons."
The show attracts an average of 80,000 visitors.