Waste incinerator plans for Great Blakenham on show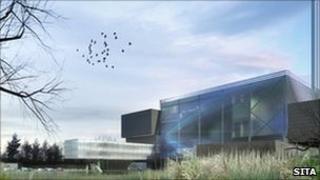 A public consultation has begun on granting a permit for a £185m waste incinerator in a Suffolk village.
The private company, Sita, wants to burn 269,000 tonnes of rubbish a year in an energy-from-waste plant at Great Blakenham.
The firm said it would create 43 jobs and generate enough electricity to power 30,000 homes.
The proposed site for the plant is the former council highways depot on Lodge Lane.
James Dowell, Sita UK project manager, said: "Around 200,000 tonnes of Suffolk's household waste is sent to landfill every year.
Wildlife habitats
"The energy-from-waste facility would sit alongside the county council's aim to recycle or compost 60% of municipal waste by 2015."
The Environment Agency (EA) is responsible for issuing a permit to Sita.
"These plants have to meet very strict European standards," said Frank Saunders, EA compliance manager.
The EA looks at impacts on health, air, water, land and wildlife habitats as well as noise levels, energy efficiency and sustainability.
Mr Saunders said: "This is an opportunity to explain what sort of substances are emitted, how they're controlled, how they're minimised, how the operator monitors them and how we assess that monitoring.
"There's a very rigorous regulatory process here. It's mainly about explaining and reassuring [the public]."
The Environment's Agency's public consultation on granting a permit for the plant, which includes an 262ft (80m) chimney, runs until 10 February.
Sita has also submitted a planning application to Suffolk County Council and the local authority will hold a further public consultation.
The firm hopes to have the plant open by late 2014.