Suffolk police knife amnesty collects 500 blades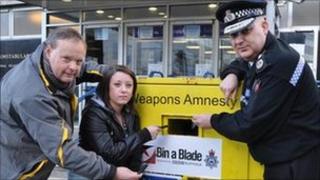 The first month of a knife amnesty has seen 500 weapons handed in across Suffolk.
The scheme was begun in December 2010 by Holly Watson, whose brother Lewis, 23, was stabbed to death in Sudbury in 2009.
Bins were placed outside police stations in Ipswich, Lowestoft and Bury St Edmunds.
"I was quite stunned and I think 500 is a high number," said Chief Constable Simon Ash.
A 9in (23cm) machete and an ornamental dagger have been dropped into the bins alongside kitchen knives, flick knives and pen knives.
'More powerful'
Mr Ash said: "We've got to see that in the context that every one of those knives is a potential tragedy prevented.
"I've got absolutely no idea who has put these knives in the bins, because the whole idea of an amnesty is people can do it anonymously with no comeback."
Mr Ash praised Ms Watson's involvement in the amnesty, alongside the police and BBC Suffolk.
"You can have police officers like me saying what a great idea it is, but that message is so much more powerful when it comes from a young person that can speak from experience and has suffered a tragedy," he said.
Andrew Rowlands, of The Croft, Sudbury was jailed for life in September 2010 for the murder of Lewis Watson, who was stabbed in the town centre on a Saturday night in September 2009.