New mother from Suffolk dies after catching swine flu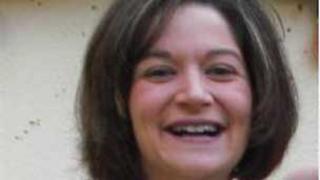 A 32-year-old woman from Suffolk has died after being admitted to hospital with swine flu less than two weeks after giving birth.
Sarah Applin, of Thurston, died on Tuesday at the West Suffolk Hospital where she developed complications with pneumonia after swine flu treatment.
Her son William was delivered by Caesarean section on 22 December and is in the special care baby unit.
Her family have urged vulnerable people to have the flu vaccination.
Flu death figures
Mrs Applin's husband Richard and parents Jane and Barry Waterman said: "We would like to strongly urge any person on the at risk register, especially pregnant women, to have the flu vaccination."
Her death comes just weeks after Sarah Howard, from Blackley, Manchester, died from swine flu two weeks after giving birth.
Ms Howard, 20, was suffering flu-like symptoms when she went into labour at North Manchester General Hospital on 5 December.
She suffered multiple organ failure about 24 hours after giving birth to her son Harry and died on 18 December.
According to figures released by the Health Protection Agency on Thursday, 50 deaths had been reported from the flu virus in the UK.
Of these, 45 died with swine flu and five with another strain, flu type B.
The government has urged people in at-risk groups, including pregnant women, to get a flu jab.
The Department of Health said there was "no national shortage" of jabs but said some areas were experiencing "local supply issues".
Director of Public Health at NHS Suffolk, Dr Brian Keeble, said: "It's clearly still very much around this mini-epidemic and it will be interesting to see what happens in the next week or so.
"I think it probably will start to tail off, but with the kids going back to school we might see another surge because kids are very good at passing bugs around."
Dr Keeble said a small number of people, including some pregnant women, appeared to be hit harder than others by the flu virus.
He said: "That's not surprising because we have known for a long time that pregnancy and flu don't mix particularly well together and I hope anyone who is pregnant who has not had the vaccination will go and get it done now."