Compacted snow, ice and fog patches bring road hazards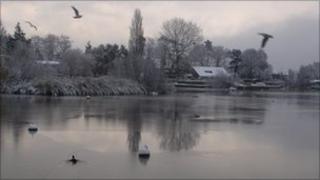 More than 50 schools have reported they will be shut because of the icy conditions in Suffolk with more than 37 others opening later than normal.
Ten children's centres are also closed and others have reduced opening hours.
Trains on lines between Ipswich, London and Norwich are subject to delays or cancellations and some are running with fewer carriages than normal.
Heavy snow has compacted and turned to ice on some Suffolk roads, now hit by fog patches causing additional hazards.
Police are asking drivers to take extra care.
Mike Young, central area highways manager for Suffolk, said his team was busy gritting the roads but it was difficult to have any impact in the icy and freezing conditions they face.