Man who sprayed blood at Ipswich Hospital sentenced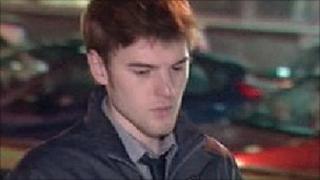 A man who flicked his blood over hospital staff in an A&E unit has been sentenced to 200 hours community service.
Phillip Bowman had previously admitted criminal damage and threatening behaviour following the incident at Ipswich Hospital on 23 October.
Bowman, 21, from Melton, Suffolk, had cut an artery on glass during a domestic row.
He was ordered to pay £380 compensation by South East Suffolk magistrates.
The court heard Bowman had been drunk and cut an index finger on a wine glass during an argument with his girlfriend.
Once admitted, he flicked his own blood around the emergency ward causing disruption for two hours.
The court was told Bowman was "thoroughly ashamed" of himself.
Chairman of the bench David Brennan, said: "It must have been absolutely dreadful for other people in the hospital that night.
"Your actions appall me."
Bowman also has to pay £85 court costs.
Ipswich Hospital consultant David Hodgkinson said: "I would say we see more commonly verbal abuse and aggression - usually alcohol-fuelled.
"The sort of case that we've been describing is very unusual."