Cuts to Suffolk police station opening hours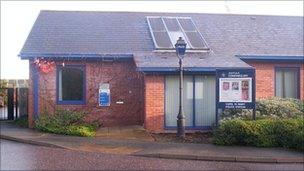 Suffolk police has announced changes to its stations' opening times which it says will save about £350,000.
Some smaller stations will be closed for up to four days a week, while other stations like Lowestoft will be open for slightly longer.
The force said the changes, from 1 December, would lead to the loss of six-and-a-half full-time jobs.
The move will save £3,000 in the first year, £150,000 in the second year and £200,000 in the third year.
Until 1 October 2010 the public inquiry desk at Ipswich police station opened from 0730 to 2300 seven days a week, which then changed to opening hours of 0800 to 2000.
Under the new plans, police stations at Lowestoft and Bury St Edmunds will have the same opening times as Ipswich, meaning Lowestoft will be open for four extra hours on Sundays.
Stations at Woodbridge, Newmarket, Stowmarket and Mildenhall will see no change and will be open from 0900 to 1700, seven days a week.
But police stations at Sudbury, Haverhill, Felixstowe, Leiston and Beccles will experience an overall reduction in opening hours when they change to 0900 to 1700, seven days a week.
The same opening hours will benefit Halesworth which was previously closed at the weekend.
But it is the smaller stations at Ixworth, Brandon, Eye, Capel and Hadleigh which will experience the most drastic changes - some of them are to be cut from as many as 25 hours to as few as six hours a week.
Suffolk police said although the opening hours of its public inquiry desks were changing, all stations would remain fully operational.
It said the changes would not affect the availability of police officers to respond to emergency incidents 24 hours a day, seven days a week.
Related Internet Links
The BBC is not responsible for the content of external sites.