Cool blanket at Ipswich Hospital 'to cut brain damage'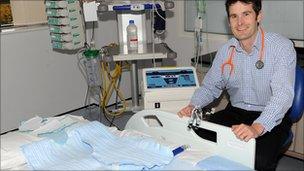 A medical cooling system to reduce the chance of heart attack patients being brain damaged has been introduced at a Suffolk hospital.
The new therapeutic refrigeration machine is being used in Ipswich Hospital's critical care unit.
The new equipment reduces the body temperature to reduce brain activity.
Patients are wrapped in a blanket filled with water to keep them at 33 degrees Celsius to reduce the brain activity that can cause tissue damage.
Dr Richard Lloyd, consultant in intensive care medicine and anaesthesia, said: "Only 10% to 20% of those who make it to hospital after suffering a cardiac arrest survive without significant brain damage.
"By cooling the patient, we can protect the brain.
"At present around 30 to 40 patients a year are looked after on the intensive care unit following a cardiac arrest.
"By using this cooling machine we should be able to improve the neurological outcome in at least 20% of cases."
The refrigeration machine costs £10,000 and was purchased from charitable funds.
Related Internet Links
The BBC is not responsible for the content of external sites.