Four million cigarettes seized at Felixstowe port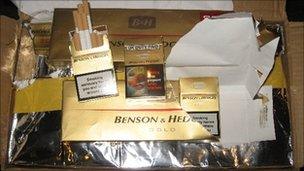 More than four million cigarettes have been seized by UK Border Agency officials at the Port of Felixstowe.
The cigarettes, hidden in porcelain plates, bowls and spoons, arrived in a single container from China.
The Border Agency said the cigarettes would have cost the UK approximately £1m in unpaid VAT and excise duty.
Brian Hill, from the UK Border Agency, said: "Cheap copies are completely unregulated and have been known to contain... unpleasant ingredients."
The cigarettes will now be shredded and the pulp used to generate electricity for the national grid.
Related Internet Links
The BBC is not responsible for the content of external sites.