Prisoners cause disturbance at Suffolk juvenile prison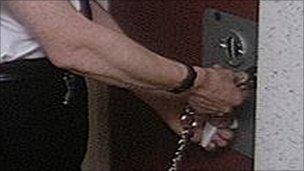 About 60 prisoners were involved in an overnight disturbance at Warren Hill juvenile prison in Suffolk.
The inmates, aged between 15 and 18, refused to return to their cells at 1930 GMT on Tuesday at the jail at Hollesley near Woodbridge.
Specialist Prison Service teams were sent in at 0540 GMT and the Ministry of Justice said no resistance was offered.
Three inmates were treated for minor injuries, damage will be assessed later and no staff were hurt.
Suffolk police were called but did not enter Warren Hill.
Related Internet Links
The BBC is not responsible for the content of external sites.