Future of Felixstowe theatre to be reviewed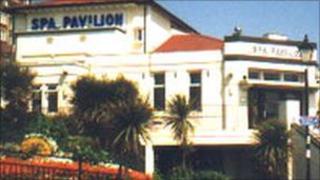 The future of the Spa Pavilion Theatre in Felixstowe is to be looked at by councillors.
A consultant will be brought in to consider options for the 905-seat venue, if the plan is backed by Suffolk Coastal District Council next week.
A council report says the number of people attending shows dropped from 47,644 in 2007 to 35,662 in 2009.
The firm which runs the venue for the council has made a loss over the past two years, says the report.
Mary Neale, the council's cabinet member for leisure, said in the report that a consultant should look at whether the theatre met the needs of local people.
They should also look at whether there should be a private/public partnership to redevelop the site or a partnership with the Marina Theatre in Lowestoft.
She said another option was to combine the theatre with a local academy school or leave it as it is.
The report, which goes before the council's cabinet on Tuesday, asks the council to spend £40,000 to hire in a consultant to look at the theatre's future.