Suffolk pensioner murder appeal to start in December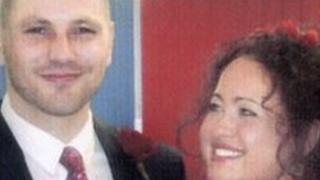 A man jailed for life for the murder of a 79-year-old woman in Suffolk is to have his conviction reviewed at the Court of Appeal.
Simon Hall, 33, from Ipswich, was jailed in 2003 for murdering Joan Albert at her home in Capel St Mary.
The Criminal Cases Review Commission (CCRC) referred the case to the Court of Appeal in October 2009 due to concerns over key evidence.
A hearing will begin on 7 December at the Royal Courts of Justice.
His wife Stephanie Hall said she was angry at the length of time taken to get the case into the appeal court.
"I cannot think of anything more urgent than an innocent man wasting his life away in a prison cell for something he knew nothing about," she said.
Unsuccessful appeal
In October last year a CCRC spokesman said the referral to the Appeal Court of Mr Hall's case was based on "fresh forensic analysis of fibre samples taken from the crime scene and other locations during the original police investigation".
The spokesman said the CCRC "believes that new forensic evidence is capable of undermining key forensic evidence and therefore raises the real possibility that the court would quash the murder conviction".
Jurors at Hall's trial were told that fingerprints, footprints and DNA evidence found at the scene of the murder did not match his.
But fibres from a pair of black trousers, in his car and in a cupboard at his parent's home, linked him to the murder, Crown lawyers alleged.
Hall has always maintained he had nothing to do with the stabbing of Mrs Albert in December 2001.
He appealed unsuccessfully against his conviction in April 2004.