Overnight closures on A14 in Suffolk for new road signs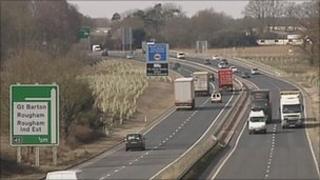 Drivers have been warned about road closures on part of the A14 in Suffolk this week as work is carried out to install new electronic signs.
The road will be shut for 11 hours eastbound between junctions 55 and 58 on Monday and Tuesday and westbound on Wednesday and Thursday.
It will be closed from the southbound A12 junction to the northbound A12 junction from 1900 BST to 0600 BST.
Traffic will be diverted through Ipswich during the closure period.
It is part of a £70m road upgrading project by the Highways Agency.
More overnight closures are to come on the A14 between Needham Market and Felixstowe in October, the Highways Agency said.
Fibre-optic cables are being placed along the road and 72 signs are being installed.
The signs will monitor the road, detecting slow-moving or stationary traffic and automatically give messages warning road users of delays.
Journey time information will be available, as well as advice on alternative routes.