Former head teacher guilty of sexually abusing pupils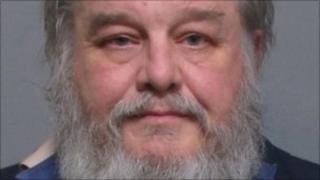 A former boarding school head teacher has been found guilty of sexually abusing and beating pupils.
Derek Slade, 61, of Burton-on-Trent, Staffordshire, had denied more than 50 counts of sexual assault and beating at Ipswich Crown Court.
But a jury found him guilty of abusing boys between 1978 and 1983 at private schools in Wicklewood, Norfolk, and Great Finborough in Suffolk.
Slade will be sentenced at the crown court on Monday.
He was head at a school for boys aged between six and 17-years-old from January 1978 and March 1983.
False passport
The school relocated from Norfolk to Suffolk in 1980.
Police said they were first contacted in June 2000 with allegations of assault by a former pupil but detectives could not trace Slade.
In 2008 and 2009 more former pupils came forward to police in Norfolk and Suffolk claiming Slade had abused them.
It was then the initial complaint was looked into further, a Suffolk police spokeswoman said.
Slade was arrested in Derbyshire earlier this year.
In May Slade admitted 16 charges of making indecent images of children, possession of almost 4,500 indecent images of children and being in possession of a false passport.
During July and August he admitted 20 offences of indecent assault and assault.
Following the sentencing Slade's victims made the following statement.
"Derek Slade created a culture of fear and suffering where casual violence and institutionalised brutality was enforced, tolerated and later accepted by everyone, pupils and staff alike.
"He stole our childhoods. What should have been the happiest years of our lives were turned into the most fearful.
"The process of giving evidence has been extremely traumatic, not only for us but also our families, but a great weight has begun to lift as a result of this trial.
"Derek Slade should never have the opportunity to come into contact with children again."