Rare Roman lantern found in field near Sudbury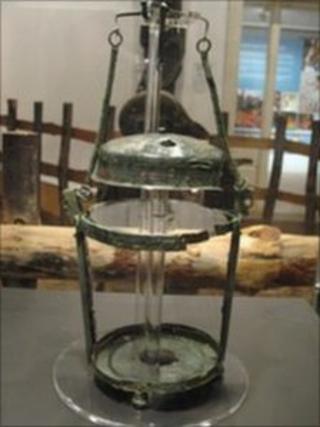 A metal detecting enthusiast has found what is believed to be the only intact Roman lantern made out of bronze ever discovered in Britain.
Danny Mills, 21, made the find in a field near Sudbury in Suffolk.
The area was dotted with plush Roman villas and country estates in the second century.
The object, described as a rare example of Roman craftsmanship, has been donated to Ipswich Museum where it is now on display.
In the autumn of 2009, Mr Mills, a metal detector user, found a large bronze object whilst metal detecting in a field near Sudbury.
He immediately reported the discovery to Suffolk Archaeological Unit.
'Magnificent object'
A Colchester and Ipswich Museums (CIM) spokeswoman said: "It turned out to be the only complete example of a Roman lantern found in Britain.
"Only fragments of similar lanterns are held in the British Museum and the closest complete example is from the famous Roman site of Pompeii."
It was found on land belonging to Mr and Mrs P Miller who donated it to Ipswich Museum, said the CIM spokeswoman.
Emma Hogarth, conservator at Colchester and Ipswich Museums, said: "It has been a pleasure to work on such a magnificent object."
Mr Mills said: "It was an amazing feeling. It took a while to dig down to see anything and once we found it, we had to go really carefully around it to get it out of the ground.
Sheet of horn
"It took the best part of an hour. I looked it up on the internet on my phone and matched it up with some others from Pompeii."
The lantern dates from between 43 and 300 AD.
It is like a modern hurricane lamp and the naked flame would have been protected by a thin sheet of horn which had been scraped and shaped until it was see-through.
The horn is an organic material that did not survive as it will have rotted in to the soil.
The flame would have been produced by placing a wick into olive oil in a holder at the base of the lamp, not unlike a tea light holder.