Drivers fined for noisy exhausts by Suffolk Police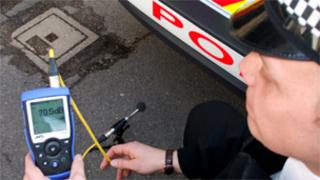 A crackdown on noisy vehicles and is under way in Suffolk.
Police recently carried out a trial of a new type of noise meter with 96 drivers stopped and 68 fined £30.
The device tests the volume of exhausts and records noise levels when idle and revving to find an average reading.
Vehicles when manufactured must have exhausts emitting noise of no more than 82 decibels but if modifications exceed 90 decibels drivers face prosecution.
Many modified vehicles that police tested using the new device registered at more than 100db.
That is roughly the equivalent of a pneumatic drill or a chainsaw, police said.
Sgt Paul Stock said: "During the trial we gave advice to drivers whose exhausts were too loud but now we have moved on to enforcement.
"Over two thirds of those vehicles we tested had illegal exhausts and have had to pay a £30 fine as well as the cost of making the exhaust legal again.
"If the driver doesn't remove the modification and is stopped again, we can prosecute through the courts for failing to maintain the silencer, which could attract a fine of up to £500."