Second rape at Latitude music festival in Suffolk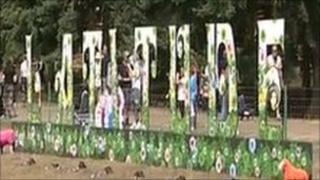 A man arrested after a second allegation of rape at the Latitude festival in Suffolk has been bailed.
A 17-year-old girl from Suffolk came forward on Saturday afternoon to report she had been raped in a tent on the campsite on Friday night.
A man, 19, from Essex, who was held on Saturday night, was bailed to return to police in Lowestoft on 2 September.
Police said there did not appear to be a link with the rape of a 19-year-old Norwich woman on Thursday.
The festival is set in Henham Park, Southwold, and features bands, theatre, poetry, film, literature and dance.
Uniformed police have carried out patrols with security staff employed by Latitude organisers Festival Republic and handed out flyers appealing for information about the first rape.
Stay with friends
The 19-year-old woman was with friends in a tent in the red area of the campsite and left at 2200 to 2230 BST on Thursday to find a toilet.
Three or four men said they would show her the way but grabbed her and raped her before running off.
Police said the woman approached the group because she believed she recognised one of the men, described as muscular and with a shaved head, as being a friend.
As she got closer she realised she was mistaken but asked for directions.
While walking, some of the group, including the man with the shaved head, left to go in another direction.
Some of the men continued to walk with the teenager and headed into a darker area with trees, where she was raped by at least one of them.
One of the men is described as white with dark curly hair, about 5ft 7in tall, of medium build, possibly in his 20s and with a London accent.
The woman was wearing denim leggings, a yellow and white check shirt, a black cardigan and Wellington boots.
Police have urged people to stay with friends while at the event and appealed for anyone with information to contact them.