National Memorial Arboretum: Tree of Cherished Memories unveiled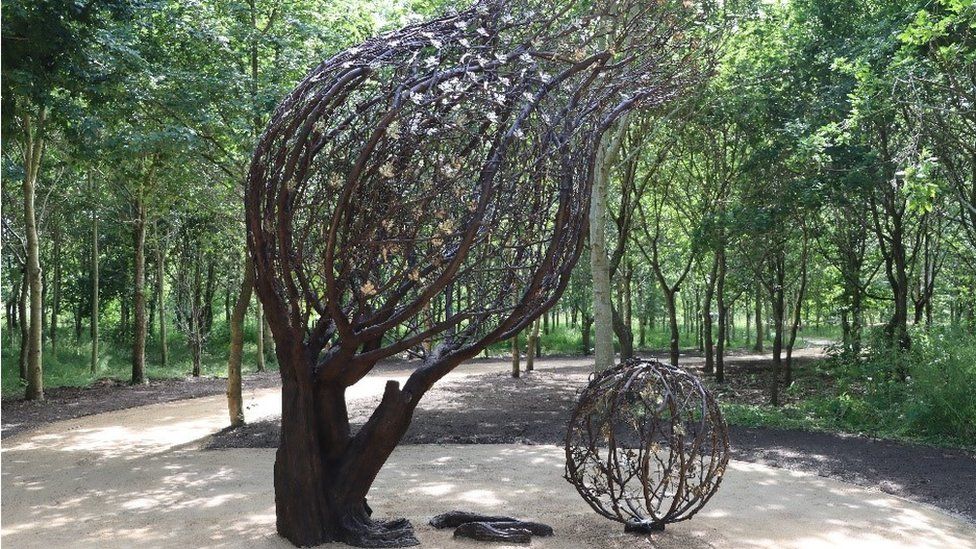 A four-metre, bronze "remembrance tree" is being unveiled at the National Memorial Arboretum in Staffordshire on Wednesday.
The sculpture, created by artist Jill Berelowitz, is entitled The Tree of Cherished Memories.
The public can commission a bronze leaf or figure to adorn the piece in memory of a loved one.
The husband of a Royal Navy nurse from Dudley is among the first to take part, paying tribute to his late wife.
Mark Richmond and his daughters commissioned a bronze figure in memory of Liz Richmond who died from breast cancer in 2021 at the age of 52.
She served in Queen Alexandra's Royal Naval Nursing Service - the nursing branch of the Royal Navy - for more than 32 years, and supported the NHS during the height of the coronavirus pandemic at Birmingham's Nightingale hospital.
"She was also a wonderful wife and mother, despite all the challenges posed by a military career and successive deployments," Mr Richmond said.
"The arboretum is a peaceful resting place for those who have given their lives in service; something that represents Liz perfectly."
The bronze sculpture has been moulded from parts of an old hawthorn tree at the arboretum that was felled at the end of its natural life to create new space for more plants to flourish.
Ms Berelowitz said her creation was steeped in symbolism.
"The branches intertwine and connect, representing the support systems and loving relationships of our families and friends," the South African artist explained.
"The roots of the tree represent the departed, yet remind us of strength and survival."
The bronze leaf and figure commissions are open to everyone for a fee, and the money that is collected will go towards keeping "stories of service and sacrifice alive for future generations," the arboretum says.
Related Internet Links
The BBC is not responsible for the content of external sites.