Robbie Williams: Fame 'intoxicating but isolating'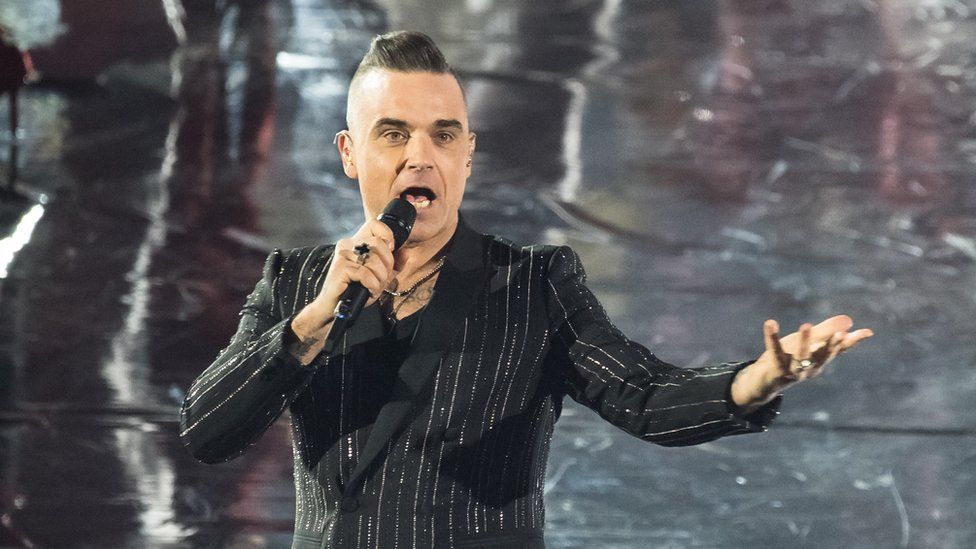 Singer Robbie Williams has said fame "should come with a health warning" as he gears up for a homecoming gig.
The star, who has had a string of hits since joining Take That at 16 years old in 1990, returns to his native Stoke-on-Trent later for the one-off concert.
About 20,000 fans are expected to welcome him at Port Vale FC's stadium.
Reflecting on his 30-year career, Williams said celebrity could be an "intoxicating" but "isolating" experience, especially when young.
During an interview on Radio 4's Today programme with BBC media editor Amol Rajan, the Angels singer, 48, said his life had been "incredible" since he became a teenage pin-up.
"I'm glad it happened to me when it did because there was nothing else happening to me," he said.
But he warned that "extreme fame" was like an illness and "should come with a government health warning", particularly for younger people.
"I do think you should know who you are and what you are," he said.
"It's something that isolates you and makes you feel weird.
"Everything that happens outside of your own body, with people looking at you and behaving in a certain way, makes you feels a certain way.
"If you're not that au fait with feeling good about yourself it can have a severe reaction, especially if you're not old enough to cope with it."
"The stage is basically opposite the directors' box and that's basically where I sat as a kid," he said.
Williams said he was confident the gig would be "absolutely amazing" but confessed he had feelings of trepidation.
"I don't know how Stoke's changed really. I've got a gilded cage that I arrive and leave in. But out of the window things look quite similar," he said.
"Where I'm from, you're not allowed to have a big head.
"You're not allowed to get ideas above your station. And even though the performance, the character I've played on stage really is full of himself I'm not really - I'm Rob from Stoke.
"They say you stop growing the day you get famous and I kind of get it, I'm like a 16-year-old inside a 48-year-old."
Related Internet Links
The BBC is not responsible for the content of external sites.