D-Day veterans invited to Staffordshire memorial event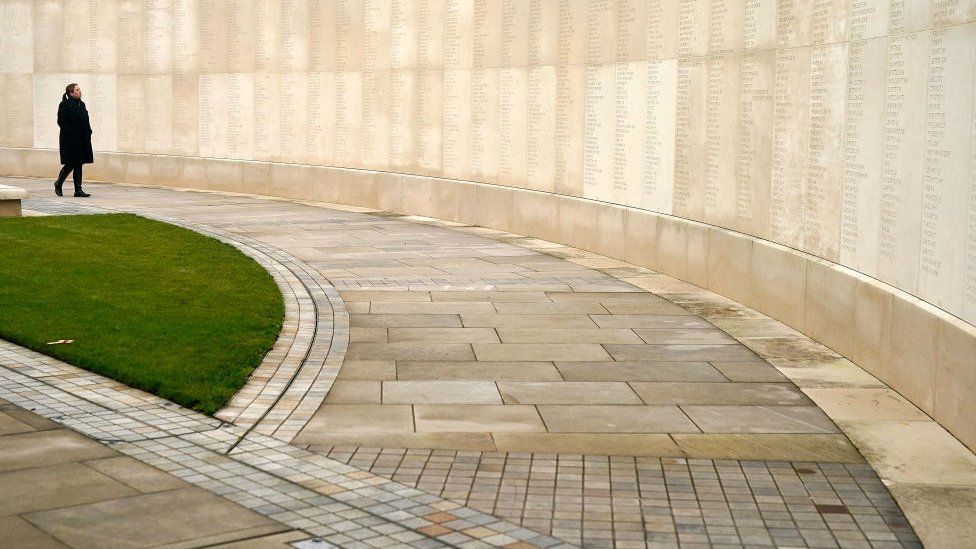 Veterans unable to travel to Normandy because of Covid-19 restrictions are invited to mark the anniversary of the D-Day landings at an event in England.
The ceremony at the National Memorial Arboretum, in Staffordshire, will include a broadcast of the opening of the British Normandy Memorial in Ver-sur-Mer.
The event, on 6 June, will mark the 77th anniversary of the battle.
It will be the first major event of the year with veterans invited to gather.
The event will also include coverage of the Royal British Legion's service of remembrance at the Bayeux Commonwealth War Graves Cemetery and an opportunity for Normandy veterans to have their Legion d'Honneur formally presented to them by the French ambassador to the UK.
Bob Gamble, from the Royal British Legion, said it was "increasingly important" to remember those who "served and sacrificed".
"We understand how much it means to the veterans and their families to be in Normandy for these commemorations. However, we are also conscious that there is still great uncertainty surrounding international travel."
The British Normandy Memorial, designed by UK architect Liam O'Connor, records the names of the 22,442 servicemen and women under British command who fell on D-Day and during the Battle of Normandy in the summer of 1944.
The memorial, which cost almost £30m, overlooks Gold Beach, one of three where British forces landed to begin the liberation of western Europe from Germany.
The 94-year-old from St Austell, Cornwall, said he was "overwhelmed" by the memorial and "had tears in my eyes".
"When I collect money for that memorial, I get a great calmness over me," he said. "I lost a lot of good men, young men."
Another fundraiser was Harry Salmon, who raised thousands through a sponsored bike ride through northern France. His father, also called Harry, was among those killed in the conflict.
"I saw veterans being interviewed on television and I found it really hard to see them shedding tears taking about their fallen comrades," he said.
"My father was a team player, these were his team mates. They were shedding tears for him."
He visited the site during his bike ride and said it was "an incredible piece of architecture".
D-Day, codenamed Operation Overlord, was a massive assault by the allies to invade Nazi-occupied western Europe and saw 156,000 soldiers from Britain, US, Canada and France land on the beaches of Normandy.
Related Internet Links
The BBC is not responsible for the content of external sites.