Wedding hope for Tamworth couple after shock cancer diagnosis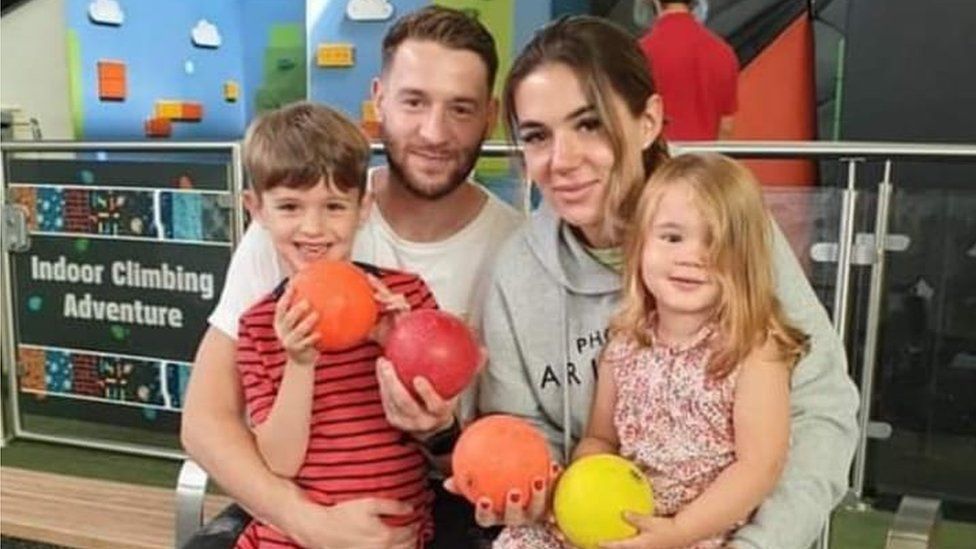 Thousands of pounds have been raised for a wedding after the groom-to-be was diagnosed with cancer.
Michael Murray, from Tamworth, was diagnosed with stage four pancreatic cancer earlier this month.
He and his partner, Jade Parkins, have been engaged since 2017 but had not got round to setting a date.
"Now, we're just going for it," Ms Parkins said. A fundraiser set up by a friend saw hundreds of donations in less than a week.
Mr Murray, 35, first felt unwell about two months ago, experiencing severe pains in his stomach. It was first put down to gastritis until the pain became so bad he had to go to hospital.
Coronavirus restrictions meant Ms Parkins could not go with him.
"He just rang me and said, 'it's the worst news'," she said.
Not only was the father-of-two diagnosed with advanced pancreatic cancer, he was also told it had spread to his lymph nodes and liver and and it was inoperable.
Ms Parkins said her heart broke at the news.
While Mr Murray is currently in hospital with an infection, she has had to "put on a brave face" for their six-year-old son, Ethan, and two-year-old daughter, Lana.
"It's hard but they're what keeps me going," she said.
Mr Murray popped the question during a getaway to the Forest of Dean four years ago, but "I got pregnant [with Lana] so we put everything on hold," Ms Parkins said. "But now we're just going to go for it."
They will tie the knot on 2 June in Lichfield if Mr Murray is well enough, although Ms Parkins joked she would "drag him up the aisle" if needed.
Friends and family have raised more than £20,000 for the big day and to support the couple afterwards which Ms Parkins said had left her speechless.
Mr Murray, who worked as a salesman for a food company, is too unwell to continue working and Ms Parkins has had to give up her barber job too to support him and their young family.
Related Internet Links
The BBC is not responsible for the content of external sites.