Ex-Stoke-on-Trent mayor 'naive' over 'racist' Facebook posts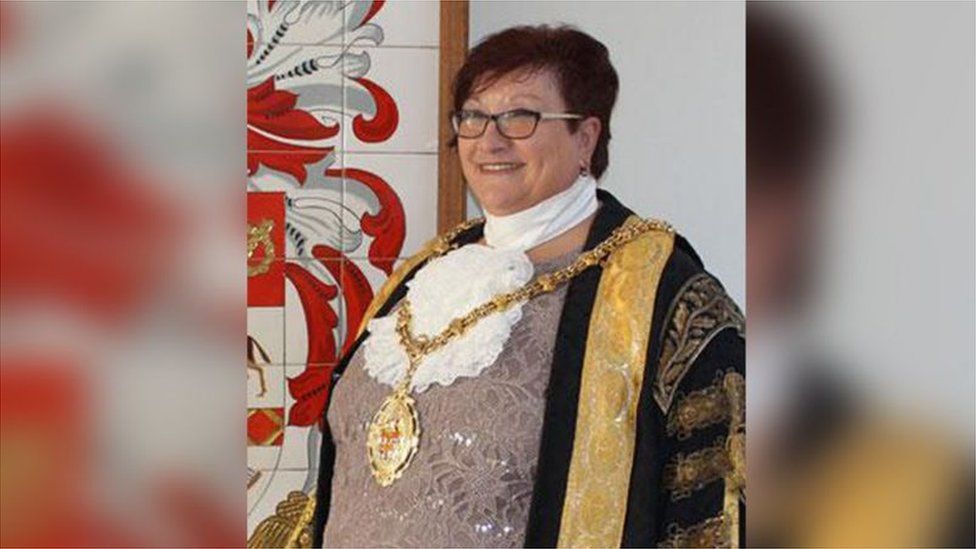 A former lord mayor was "naive" in her use of Facebook when she shared "racist" posts, councillors have concluded.
Complaints were made about posts relating to the Black Lives Matter (BLM) movement that ex-Stoke-on-Trent mayor Jackie Barnes shared on her personal account.
The council investigated 27 posts and found five breached the councillor code of conduct.
A panel recommended she be reprimanded.
The posts were all shared after 25 May when George Floyd, an African American man, died in the custody of police in Minnesota, prompting protests across the world under the BLM banner.
The posts shared by Mrs Barnes included one that questioned why there were no mass protests following soldier Lee Rigby's murder.
She has previously apologised over the content and referred herself to the council's standards process.
The council investigation examined whether posts broke rules by not showing respect to others, causing the council to breach its equalities duties, or by bringing the council or Mrs Barnes's office as a councillor into disrepute.
The five posts were judged to have done so on one or more criteria.
Members of Stoke-on-Trent City Council's Standards Committee met on Wednesday and upheld the findings.
While they did not believe there was any malice behind the sharing of the posts, the panel said ignorance was not an excuse.
They recommended Mrs Barnes be reprimanded and a statement of apology be published on the council website.
The panel also asked for guidance on the use of social media and for training on social media and racial equality awareness for all councillors.
Their recommendations will go to a full council meeting to be voted on.
Mrs Barnes told BBC Radio Stoke she would accept the reprimand.
The councillor for the Trent Vale ward was sitting as a City Independent at the time of the posts, but is now a non-aligned independent.
The council is a minority Conservative administration and opposition Labour group leader Jane Ashworth called for Mrs Barnes to be removed from her position on the cabinet group.
Related Internet Links
The BBC is not responsible for the content of external sites.