Alton Towers makes changes after woman taken off ride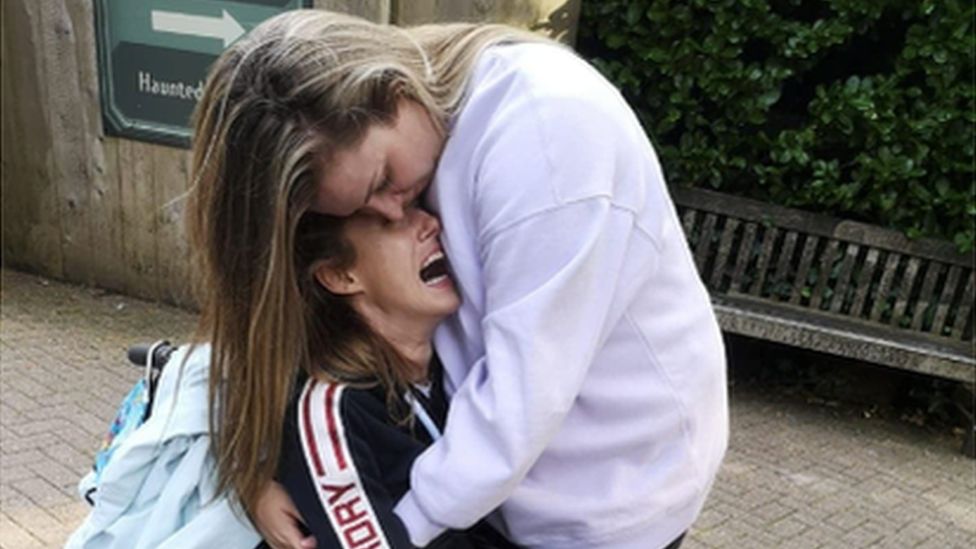 A woman with cerebral palsy is to be involved in Alton Towers' updated disability training after she was left in tears over treatment by staff.
The venue said it had made changes after Hannah Cheetham was publicly removed from a thrill ride when visiting with sister Becky last month.
Alton Towers apologised for that and other behaviour, and has since invited the pair back to discuss practices.
The sisters have agreed to return to the theme park.
They say they want to give disabled people a "better experience" by helping those in public-facing roles.
Becky Cheetham said she had been told her youtube video about the ordeal would form part of staff training.
Sister Hannah, who uses a wheelchair, visits the park annually as an "adrenaline junkie", and has previously gone on every ride she wished.
They had tried to ride rollercoaster The Smiler and got near boarding without any staff intervention until a worker shouted in earshot of crowds "she can't walk", and turned them away.
The sisters were upset further at another ride, Rita, where Becky Cheetham said staff watched as she carried her sister to the attraction - only to be told once strapped in they were not allowed on due to health and safety reasons.
An apologetic Alton Towers says it has "listened" to the Cheethams and wants to do better, particularly in staff training.
A spokesperson said: "We have invited Hannah and Becky back to discuss the changes we can make, and we look forward to showing them how committed we are to making sure that their experience is not repeated."
Becky Cheetham said: "We feel excited about the prospect of changing attractions for the better
"We hope to help public facing roles improve their disability training and give disabled people a better experience."
Related Internet Links
The BBC is not responsible for the content of external sites.