Ambulance catches fire in Stoke-on-Trent during call out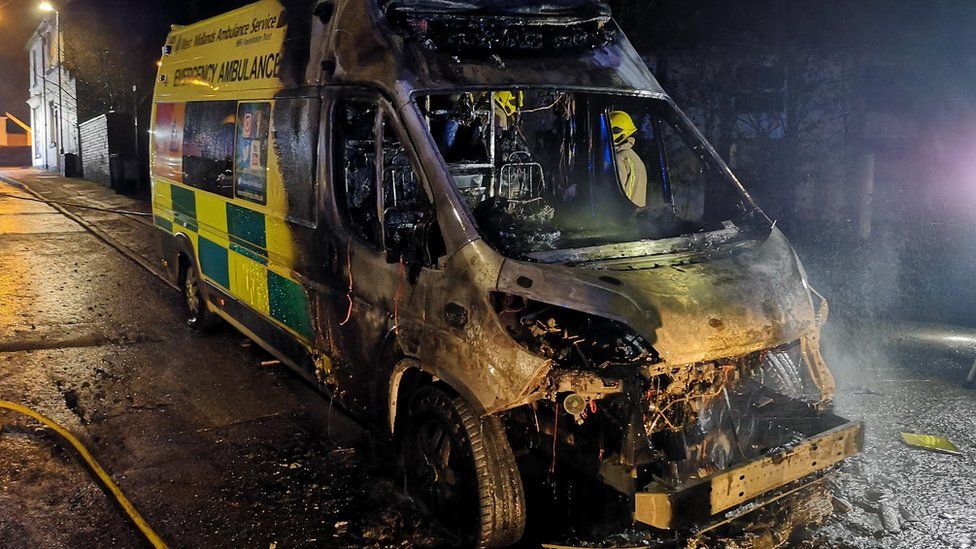 An ambulance was badly damaged when it caught fire as paramedics treated a patient in their nearby home.
Neighbours of the patient in Flash Lane, Stoke-on-Trent alerted the crew who were inside the property in the early hours.
Firefighters extinguished the blaze, but the vehicle suffered significant damage, West Midlands Ambulance Service (WMAS) said.
No-one was injured and an investigation has been started, a spokesman added.
The crew was called to assess the patient in Trent Vale at 00:37 BST and was later informed by neighbours the vehicle was on fire.
WMAS said the ambulance had been removed for forensic investigations.
"Because the trust has no vehicle over five years old, fires are very unusual, so establishing the cause is extremely important," a WMAS spokesman added.
Staffordshire Fire and Rescue Service said it was called at 03:40 to a report of a fire on Flash Lane and crews found the front cab of an ambulance alight.
"An investigation is under way but at this time we believe the fire may have been caused by an electrical fault," a spokesman said.
Related Internet Links
The BBC is not responsible for the content of external sites.