Homes plan at former Rugeley Power Station site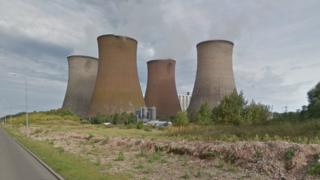 Plans have been unveiled to build more than 2,000 homes on the site of a former power station.
The coal-fired plant in Rugeley, Staffordshire, closed in 2016 with the loss of 150 jobs.
Owner Engie has laid out plans to build a combination of houses and commercial buildings on the 139-hectare site.
The utility firm said it expected to power the homes entirely by renewable energy, 50% of which could be generated on site.
Planning permission has recently been granted to demolish the power station and its cooling towers, the Local Democracy Service said.
A series of community events are expected to take place from 30 November to show off the plans.
Councillor Mike Sutherland described the project as "one of the most exciting" before the district council.