Staffordshire hoard: Replicas of 'king's helmet' on show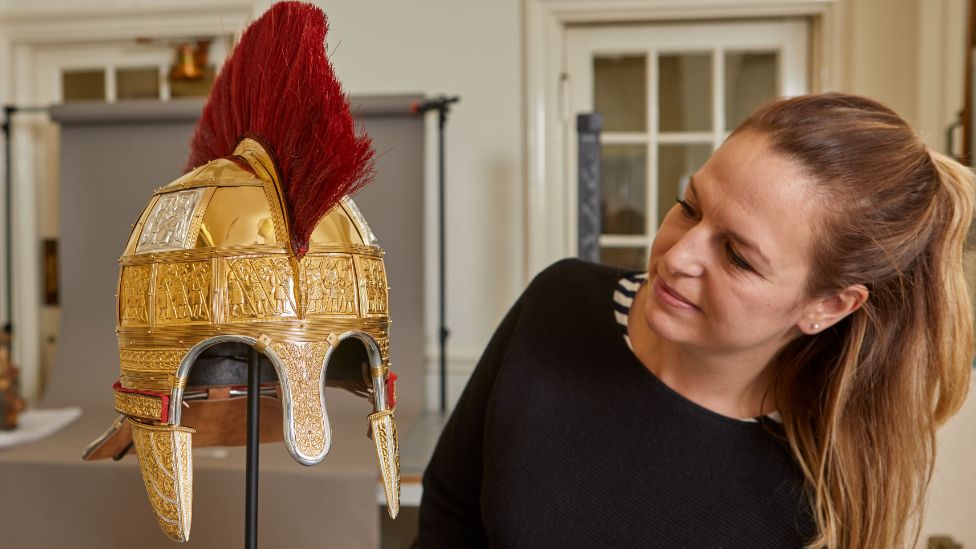 A helmet thought to have been worn by a king has been reconstructed nine years after fragments of the original were found within the Staffordshire hoard.
Of 4,000 pieces dug up in a field in 2009, up to a third were remnants of the rare Anglo-Saxon helmet, one of only a small number ever found in the UK, Birmingham Museums Trust said.
The Staffordshire hoard is the largest treasure haul of its kind.
The reconstructed helmets are going on show in Birmingham and Stoke-on-Trent.
Pieces discovered near Lichfield nine years ago are comparable to those from the Sutton Hoo helmet found in Suffolk in 1939, the trust said.
Experts studied the fragments, believed to be more than 1,300 years old, to build a picture of the original.
The pieces go on show at Birmingham Museum and Art Gallery and The Potteries Museum and Art Gallery, in Stoke-on-Trent, from Friday, joining other items from the 7th Century collection on permanent display.
"After nearly 10 years, the Staffordshire hoard is still giving up its secrets," Dr Ellen McAdam, from the Birmingham trust, said.
"Research has now shown us that the hoard contains fragments of a helmet.
"Only Anglo-Saxon kings wore helmets and this is one of a very small number ever to be found."
The Staffordshire hoard is made up of almost 4,000 fragments, belonging to an estimated 450-500 objects, mainly gold and silver
It is thought to have been buried between 650 and 700 AD and demonstrates the work of highly skilled and technically advanced smiths
Valued at an estimated £3.3m, the first items were discovered by metal detectorist Terry Herbert in July 2009, with other artefacts found later
The area was once part of the Mercia kingdom, which by the 8th Century had become the most powerful in the country
How and why it came to be buried in a unremarkable field remains a mystery
Significant parts of the original helmet have not been found and surviving pieces are too damaged and incomplete for experts to reassemble it.
Researchers spent four years studying the fragments.
You may also be interested in
The team, including members of the School of Jewellery at Birmingham City University, scanned them by laser to ensure any replica pieces were as close to the surviving parts as possible.
Conservators believe some of the items in the Staffordshire hoard could have been produced in the same workshop as pieces found at the Sutton Hoo site.
But researchers on the Staffordshire project said despite intensive work, they did not know who the helmet was made for.
Fundraising paid for the reconstruction work, part of wider research by the Society of Antiquaries of London and the Archaeology Data Service, due to be published next year.
Related Internet Links
The BBC is not responsible for the content of external sites.