Adrian McDonald inquest: Man 'couldn't breathe' before custody death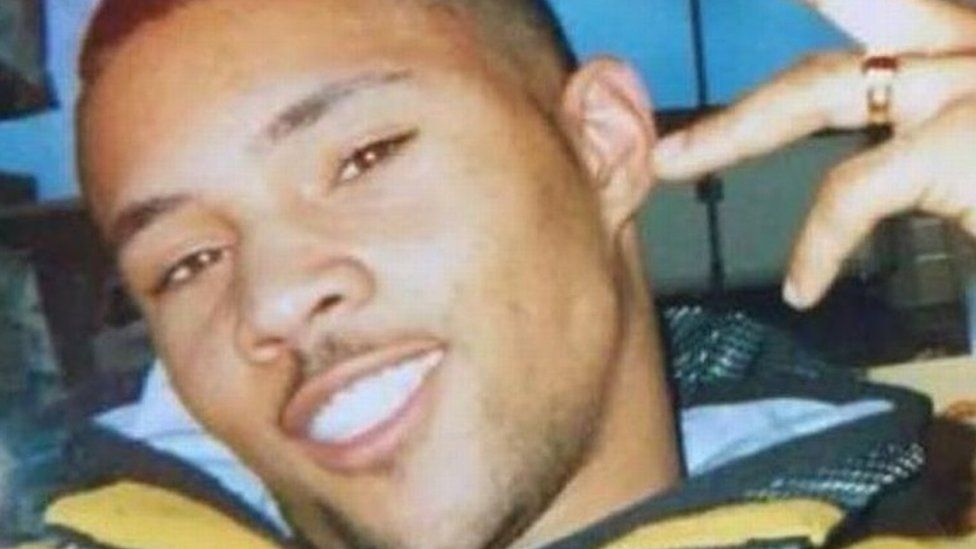 A man shouted "I can't breathe" from the back of a police van minutes before he lost consciousness and died, an inquest was told.
Adrian McDonald, 34, had been bitten by a police dog and Tasered just before his arrest at a friend's flat in Newcastle-under-Lyme, Staffordshire.
Officers then told him to take "deep breaths" while he was in custody, an inquest jury heard.
Mr McDonald's brother described him as a "gentle giant".
Footage from a police body-worn camera was shown at the hearing, with officers trying to gain access to a "barricaded" living room door in Audley Road.
Staffordshire Police had been called to "reports of an intruder" at the flat, but Mr McDonald, from Huddersfield, knew one of its occupants, the inquest was told.
He admitted to police he had taken drugs and appeared to be breathing heavily as officers asked him to "calm down", the jury heard.
Mr McDonald was then handcuffed, escorted out of the property and put in the police van.
He complained of breathing difficulties and was later heard in a recording shouting from the van "I can't breathe" in December 2014.
An officer was then heard telling him: "You can breathe because you're talking. Deep breaths."
However, after almost seven minutes in the van Mr McDonald became unresponsive and an ambulance had to be called.
The moment he was bitten by a police dog and Tasered was not captured on the recording shown to the jury earlier.
Giving evidence, his brother Wayne McDonald said his sibling's "zest for life was contagious".
He added: "It's been four years since we lost Adrian. That's four years since we last heard him laugh, smile, and four years since his children last got to give him a hug."
The inquest, held in Hanley, Stoke on Trent, is expected to last up to three weeks.
Related Internet Links
The BBC is not responsible for the content of external sites.