'Half of cabinet want to chuck' HS2, claims Stone MP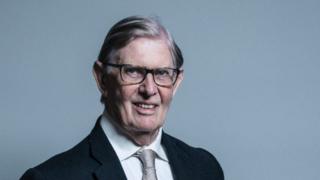 An MP has claimed the HS2 rail programme is a "dying white elephant" which "half the cabinet want to chuck".
Sir Bill Cash, MP for Stone said he believed there are grounds for having a full government review into the project
He called on Chancellor Philip Hammond to "put the brakes on this vanity project before it leaves the station".
Transport minister Nusrat Ghani said the government was committed to HS2 and other supporters said it was a project of national importance.
HS2 is the £55.7bn planned high-speed rail network initially running between London and the West Midlands before a second phase expands it to Manchester and Leeds.
Critics say the project will damage the environment and is too expensive.
Part of phase two's route will run through Sir Bill's Staffordshire constituency.
Speaking in a Westminster Hall debate Conservative Sir Bill said there was "gathering momentum" to scrap the scheme which had "already charged the British taxpayer over £4 billion before construction has even started".
His comments were echoed by HS2 opponent and Tory former cabinet minister Dame Cheryl Gillan, who also called for it to be paused.
But Labour's Graham Stringer, MP for Blackley and Broughton and Conservative Poole MP, Sir Robert Syms, voiced support for the scheme.
Ms Ghani said HS2 plans remained "on track", with work starting on phase one to link London to Birmingham by 2026 and the Government legislating for phase two A connecting Birmingham and Crewe from 2027.