Cannock free school 'uniform bank' overwhelmed by demand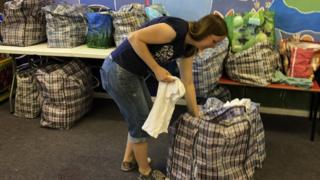 A "uniform bank" set up to give away free school uniforms has been overwhelmed with struggling parents, volunteers have said.
The scheme in Cannock, similar to a food bank, has provided dozens of Staffordshire parents with second-hand uniforms for the new school year.
Create Community Hub relies on donations and lost property from schools.
Volunteers said interest in the scheme had "exploded".
Midlands Live: Midwife's body 'found in shallow grave'; Man seriously injured in microlight crash
Uniform bank volunteer Steve Graham said: "It seems to have really taken off. Last week we provided uniforms for nearly 20 children.
"We launched it this month and it has exploded on Facebook with lots of people enquiring how they can get uniform."
The church-run scheme provides jumpers and cardigans with logos for 12 primary and secondary schools in the Huntington area, along with plain tops, trousers and skirts.
One mother of two boys at Littleton Green Community School said the uniform bank was a great idea.
"It helps parents like myself who are on a lower income and have quite a big family," said Jodie Humphries.
She added: "Over the years as my boys have grown up, they ruin and get through lots of uniform. I haven't always been able to afford new ones."
Mr Graham said the uniform bank started with one school last year, but due to demand it expanded to offer clothes for 12 schools.
He said: "The area we work in is socially deprived and parents can be short on cash.
"The parents who have come said saving money on uniform has freed up their budget to spend doing stuff with the kids this summer."