Staffordshire Moorlands fire out after six days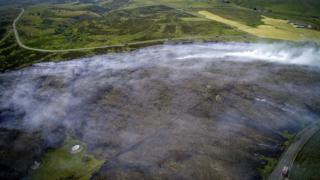 A fire in the Staffordshire Moorlands has been put out after it had been burning for six days.
Grassland caught fire between Thorncliffe and Shawfields, near Leek, on Saturday afternoon and a blaze broke out in woodland in Alton on Monday.
One appliance is still at the scene in Alton and crews will monitor "for any hotspots" and will "ensure the fire is completely out".
Crews will also continue to monitor the Moorlands site over the weekend.
Staffordshire Fire and Rescue Service shared the news on social media and thanked people for their help.
The fire service said previously it has been "absolutely stretched" in the hot weather.