Staffordshire Moorlands fire not out after six days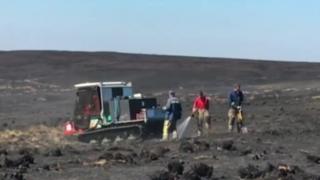 Two fires in the Staffordshire Moorlands are still not out, with one still burning six days after grassland caught fire.
The first started between Thorncliffe and Shawfields, near Leek, on Saturday afternoon and a blaze broke out in woodland in Alton on Monday.
Two crews remain at Alton on Thursday and one crew at the fire near Leek, Staffordshire Fire and Rescue said.
Although they are under control, crews are monitoring high winds in the area.
Two other fires in Stoke-on-Trent on Thursday are being treated as arson.
Four tonnes of hay caught fire at Blurton Grange Farm and firefighters tackled a fire in a field in Bradeley earlier.
The fire service has said it has been "absolutely stretched" in the hot weather.
The British Red Cross and Rapid Relief have been at the Moorlands fires throughout the last few days checking on the welfare of firefighters.
Earlier this week, it said there were 364 fires in the open in June and 252, or 69%, were started deliberately.