Man jailed after girl loses leg in Newcastle-under-Lyme crash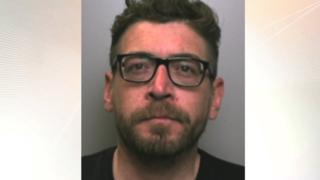 A driver has been jailed over a crash which led to a 10-year-old girl needing her lower leg amputated.
Anthony Lee Wright, 36, was "calculated as travelling at 78 mph (125 km/h" about 100 metres before the crash in a 30mph (48 km/h) zone, police said.
His Audi A5 crashed into a Seat Leon in Hempstalls Lane, Newcastle-under-Lyme, injuring the girl and her mother.
He was jailed for 40 months after admitting two counts of causing serious injury by dangerous driving.
He also admitted failing to provide a breath specimen.
The girl was a rear-seat passenger in the Seat when the crash happened on 16 September.
Judge Paul Glenn, at Stoke-on-Trent Crown Court, also disqualified Wright, of Bradwell Lane, Newcastle-under-Lyme, from driving for more than five years. He will have to pass an extended test to get his licence, officers said.
Wright provided a positive roadside breath test at the scene, but later failed to provide samples at hospital, Staffordshire Police added.
Rich Moors, of the Serious Collision Investigation Unit, said: "Due to the selfish actions of Anthony Wright a young girl's life has been changed beyond comprehension."
He praised the girl's family who "remained dignified throughout this process at this extremely difficult time".