Vigil plans for 13-year-old Stoke-on-Trent lake victim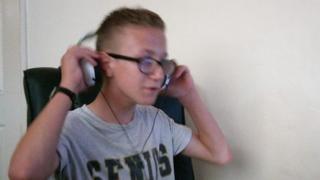 A vigil is being planned to remember 13-year-old Ryan Evans who's body was pulled out of a lake earlier this week.
His body was discovered at Westport Lake in Stoke-on-Trent on Wednesday.
Rescue crews had been searching for the Haywood Academy pupil, after he and two friends were spotted "in distress" in the water on Monday.
Tributes have been left on a bench at the lake, including flowers and Port Vale shirts and almost £14,500 has been donated towards his funeral.
In a statement, his family said they have been "overwhelmed" with messages of support so far, describing him as their "world".
They also urged people to be aware of the risks in swimming outdoors, adding: "We just cannot emphasise enough the dangers of swimming in open water, especially where young children are concerned.
"Our message is simple, please don't do it."
About 100 people attended a separate vigil on Thursday, organised by Families in Need in Stoke-on-Trent and Newcastle.
Sgt Matthew Bennion was among those who attended. He said: "It has really touched everybody. It has been really difficult.
"It has been amazing to see how much the community has got involved in supporting the families and supporting the officers and all the different emergency services involved."
Saturday's lakeside vigil will start at 18:30 BST and Sgt Bennion, a family liaison officer, said Ryan's family are due to attend.
There will be a picture of Ryan, a book of condolence for people to sign, and extra car parking.
If you do swim in open water here is some advice
Get to know where you are swimming and check the conditions before going in
Make sure you are properly equipped
Beware of the cold
Make sure someone knows where you have gone and why, and that you have the means to call for help - especially in remote locations
Take note of local safety advice and respect the countryside, landowners and other users
Source: National Water Safety Forum