Race hate Stoke-on-Trent candidate sentencing delay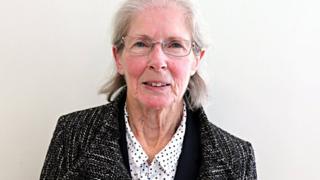 A parliamentary candidate who praised Hitler on a blog has had her sentencing put back to get legal representation.
Barbara Fielding-Morriss, 79, was found guilty of three counts of stirring up racial hatred at Stoke-on-Trent Crown Court on Thursday.
The self-confessed white supremacist and anti-Semite stood as an independent for the city central constituency in June's election.
At sentencing, she said she wanted to seek legal aid to appoint a solicitor.
Fielding-Morriss, of Stuart Avenue, Draycott, Staffordshire, stood in last year's Stoke-on-Trent Central by-election and in the last general election, polling just under 250 votes in both elections.
In four blogs between September 2016 and September 2017, she included statements about how asylum-seeking Jews were like termites and made comments about mentally disabled migrant children, jurors were told.
She described Adolf Hitler as a good man and wished Great Britain to be "white only".
She had previously refused to have legal representation in court.
'Plenty of time'
Adjourning the hearing on Friday, Recorder Julian Taylor said: "In this case - because of the sensitivities of it - I feel that I ought to give the defendant one chance to seek legal advice but it will not be adjourned again.
"These offences carry a maximum sentence of seven years imprisonment. You have had plenty of time to obtain legal representation and you should not have left it until this morning to tell me you now want the services of a solicitor."
She is due back in court on July 20.