New inquest hope in Stafford Hospital boy's death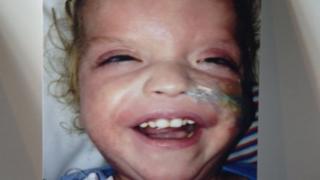 The parents of a boy who died at Stafford Hospital are a step closer to getting a new inquest into his death.
A coroner originally ruled three-year-old Jonnie Meek, from Cannock, died of natural causes, which his parents have always disputed.
Now the Solicitor General Robert Buckland has given permission for an application to be made to the High Court for a new inquest.
His parents said they were "over the moon" at the decision.
A spokesman for the NHS Cannock Chase Clinical Commissioning Group said it "welcomes" the move.
Jonnie, who had a rare congenital disability, died at the hospital's children's unit two days after his third birthday in 2014.
His parents maintain he died from a severe allergic reaction to a milk feed given at the hospital, which was previously at the centre of a £6m public inquiry into care failings.
However, an inquest in January 2015 said he died of natural causes due to pneumonia.
'New evidence'
Since then, three clinical experts said the original inquest finding was wrong, a campaigner for the family claimed.
Parents April and John Meek said Jonnie developed a rash on his skin, low pulse and breathing problems after having the milk, which had made him ill on previous occasions.
A spokesman for the attorney general's office said the solicitor general had given permission as there was "enough new evidence to merit" an application for a new inquest.
Mr Meek, 44, said: "This is brilliant news for us as a family who still have so many questions to be answered. We are over the moon."