Stafford fireworks factory owner jailed over fire deaths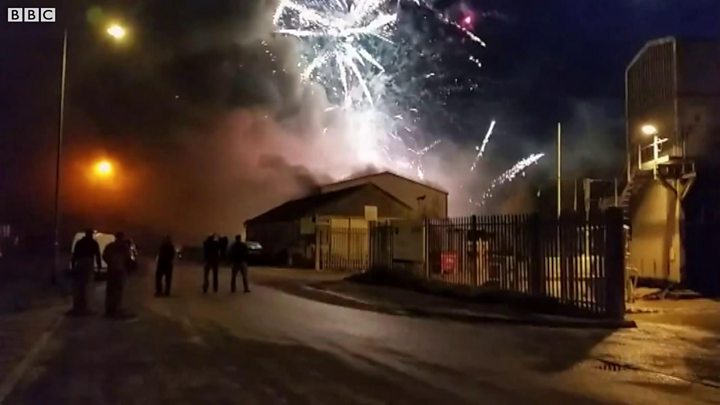 A businessman convicted over the deaths of two men at a factory "rammed" with fireworks has been jailed for 10 years.
"Arrogant" Richard Pearson was found guilty of manslaughter by gross negligence last month, after employee Simon Hillier and customer Stewart Staples died at SP Fireworks in 2014.
The number of fireworks stored at the unit was "up to 10 times the permitted limit", Stafford Crown Court had heard.
Pearson, 44, was also injured in the fire in Stafford.
Mr Hillier, 41, and Mr Staples, 57, both from Hednesford, Staffordshire, died from inhaling combustible products.
Pearson, of Holyrood Close, Stafford, had denied failing to take reasonable care in the storing and handling of explosives at his business unit in Baswich.
He attempted to blame others for what happened, including Mr Hillier - a move Judge Michael Chambers QC described as "not reasonable in any sense of the word".
Mr Chambers insisted this was "not a case where remorse loomed large" and Pearson had "given the impression of being rather arrogant".
He told Pearson: "You have known your true culpability from the start yet you have chosen to falsely blame others.
"Despite being very knowledgeable about fireworks and the risks they pose, motivated by financial profit, you have demonstrated an arrogant recklessness for the safety of others in the storage and handling of dangerous fireworks."
The owner of the Tilcon Avenue unit allegedly told paramedics at the scene it was "rammed" with explosives and, when questioned by police, claimed someone must have thrown a firework into the shop.
In a victim impact statement read to the court, Mr Staples' wife Angela said despite being a devout Christian for 28 years, the incident had "led to a complete lack of faith".
She said: "We still struggle with the pain, anger and grief of losing Stewart. I still find sleep hard to come by.
"The ripples from Stewart's death have spread far and wide."
Prosecutor Allan Compton added Mr Hillier's family had been left "broken-hearted" by his death.
Det Insp Glyn Pattinson, of Staffordshire Police, said: "During the lengthy investigation and throughout his trial, Pearson attempted to offer alternative explanations for the fire, which thankfully the jury did not accept.
"He always sought to blame others and never once took responsibility for his own actions or showed any remorse for what happened that evening."
Tim Hyde, incident commander for Staffordshire Fire and Rescue Service, said it had been a "harrowing" and "dangerous" scene that had greeted crews on 30 October 2014.
Following the case, Stafford Conservative MP Jeremy Lefroy called for regulations on the amount of fireworks that can be stored to be tightened.