Death of man in 'shorts and socks' in Packmoor investigated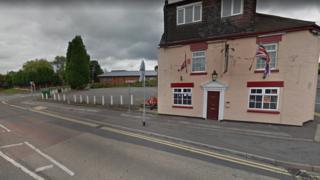 A man has died after being seen covered in blood, in just a pair of shorts and socks, trying to get into people's cars, police say.
Staffordshire Police, which was called to the Packmoor area of Stoke-on-Trent at 13:35 BST on Monday, said witnesses reported the 26-year-old was also acting aggressively towards people.
The force said he was detained outside a pub before being taken to hospital, going into cardiac arrest on the way.
He was pronounced dead at about 18:20.
Police wish to speak to anyone who saw him in the hours before he was found.
The ambulance service alerted police after reports of a man in distress on Turnhurst Road.
The dead man's family has been informed, say police, who describe him as local.