'Dumped' pet snakes a threat to native adders at Kinver Edge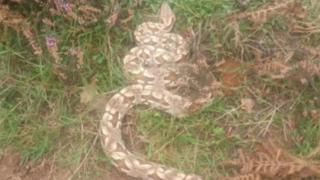 A 4ft (1.2m) boa constrictor was among several non-native snakes to have been apparently dumped at a beauty spot.
The exotic snakes pose a threat to the already at risk adders which live on Kinver Edge on the Staffordshire/Worcestershire border, the National Trust said.
Five snakes have been found there in recent months, the trust said. The Dumeril's boa has since been rehomed.
The organisation is urging pet owners to be more responsible.
"In recent months we've discovered in the UK that we have a disease called snake fungal disease," said spokesman Nigel Hand.
"So if you add non-native native species in there's a chance pathogens or diseases can cause real problems to a very small [adder] population.
"We may end up wiping them out if this happens."
The trust has been looking after the picturesque site for more than 100 years and said the number of adders there was dwindling.
Wardens track the adders and were shocked when they came across the boa last autumn.
"When we found the first one [non-native snake], we thought that potentially it was an escapee but the fact we have found five snakes, we really think there is a case they have been released on this site," Mr Hand said.
Releasing the foreign species is illegal and can be punished with a fine of up to £5,000 or six months in prison.
Pet owners wanting to give up their snakes are advised to seek expert advice.