MP Michael Fabricant tweet row teen 'will not be bullied'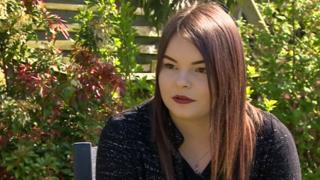 A teenager who was called an offensive name by her MP on Twitter says she will not be "bullied" by further comments from him and his followers.
Darcy Norgate, 19, of Burntwood, was called a slang word for female genitalia by Michael Fabricant after tweeting he had "neglected" her town.
She said he had posted and re-tweeted negative remarks rather than apologise.
The Tory MP, who claimed he thought the word used was a synonym for "twit", has offered to meet Ms Norgate.
In a statement on Twitter, Ms Norgate thanked people "for all their support".
She said Mr Fabricant's "failure" to apologise had made the row "an item of public interest".
"I am not offended by bad language but I do not think anybody in a position of authority should respond with the use of bad language," she said.
'Indecent behaviour'
Mr Fabricant re-tweeted some messages from followers, including one suggesting she was not "emotionally mature" enough to be on the social media platform and one saying she should learn more about local politics.
Ms Norgate responded: "I will not be bullied or intimidated despite the best efforts of Mr Fabricant and his followers.
"Young people deserve an opinion without being intimidated or silenced.
"I am not a member of any political party, so had no agenda other than standing up to indecent behaviour from a person in authority."
The media student said Mr Fabricant had been her MP "for as long as I can remember".
The exchange began on Friday when the MP tweeted that local elections had been a disappointing day for the Labour party.
Ms Norgate replied: "Not as disappointing as Burntwood since you neglected it. Weak and wobbly."
Mr Fabricant, 67, said Ms Norgate's profile did not indicate her age or location.
"For all I know, she is a Russian troll in St Petersburg," he said.
He tweeted he would love to meet her "to apologise for a word which I did not know meant anything other than 'twit' - and for a number of other reasons too."
He hoped she would contact him "the proper way", through his website or by letter, but said he had not yet heard from her.
It is not the first time Mr Fabricant's use of the swear word has caused controversy.
In October 2013 he used the term to describe Russell Brand during a live interview on BBC WM.
The MP denies he knew, or was informed, of the meaning of the word after the 2013 blunder, insisting he was only told it was a "naughty word" which he thought was the "equivalent of the American word fanny".
He said he did not realise it was "a term of abuse equivalent to the C word" when he addressed Ms Norgate as such.
"Of course I apologise if it is the equivalent," he said.