Local Elections 2018: Labour hold Cannock Chase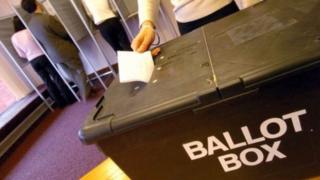 Labour has maintained a slim majority on Cannock Chase Council with 21 out of 41 seats.
Thirteen seats were up for election in Cannock Chase. The Conservatives made gains, while UKIP councillors lost theirs.
In Tamworth, it's the Conservatives who held on to their majority, with 22 out of 30 seats - an increase of two.
Labour lost one of their seats and are now down to five councillors. UKIP lost one of its two Tamworth seats.
There were 10 seats up for election on Tamworth Borough Council, with 16 required for a majority. In the 2014 election, the Conservatives had a majority of 20 and this year have gained a further two.
The party also made gains in Cannock Chase, having secured 15 seats - four more than they had at the last local election.
The Green Party won seats for two more councillors at Cannock Chase Council and now have three representatives.
At Newcastle-under-Lyme Borough Council, no party remains in overall control.
Labour, despite taking most of seats, failed to win an outright majority over the other parties.
It finished with 20 seats, with the Conservatives taking 18 and the Liberal Democrats three, with a further three for independent candidates.