Leek butcher warned by police over 'risqué' adverts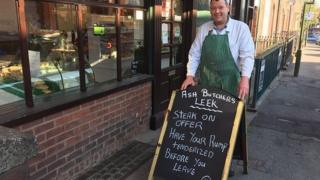 A butcher who used a string of sexual innuendos to advertise meat on a shop's blackboard has been rapped by police.
Pete Lymer said he referred to "big breasted birds" and others in risqué slogans outside J W Ash & Son in Leek, Staffordshire.
The 43-year-old said he used the adverts for the last decade without an issue, but officers have now warned him to tone down the content.
He branded the situation "political correctness gone mad".
Mr Lymer told the BBC: "It feels like the situation has been taken too far as it was meant to be a joke.
"The signs have been there for 10 years, we have a customer base of about 1,000 people and it has never been an issue until recently.
"I'm going to have to get creative with some toned down adverts."
A Staffordshire Police spokesman said: "We've received no complaints about signage outside J W Ash and Son butchers in Leek.
"However, the local chief inspector did advise the owner to give careful consideration to what was written on the boards in case anyone took offence. No other action has been taken."
You may also be interested in