Police chase car drove 'wrong way' before Staffordshire crash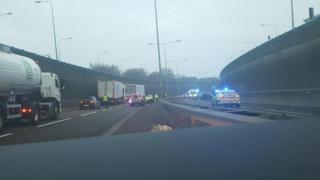 A car was being driven the wrong way before a crash killed the driver and injured his passenger, police said.
The Toyota Aygo was involved in a police pursuit before the crash on the A50 near Longton in Staffordshire on Sunday.
A 19-year-old man died while an 18-year-old woman remains in hospital.
Police called off the pursuit "due to the manner of the driving" as it travelled "for some distance facing oncoming traffic".
Staffordshire Police said the pursuit had begun at a "routine vehicle stop" in Etruria Vale Road in Hanley, when the driver refused to stop for the officers who had indicated for the car to pull over.
The car then hit another vehicle, whose occupants suffered minor injuries, on the eastbound carriageway, between the Baths Road and Trentham Road junctions, police said.
Police said a post-mortem examination was yet to be arranged for the man, from London, who has not yet been identified. The woman, from Stoke-on-Trent is in a "critical" condition.
Investigations are continuing into the crash and officers have appealed for anyone with information to come forward.
It has also notified the Independent Office for Police Conduct, which is assessing the incident.