Rugeley rubbish fire to be put out after 16 months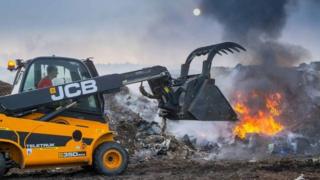 A rubbish fire that has been burning for 16 months can now be "safely extinguished", firefighters have said.
The 1,000-tonne woodchip fire at Oak Farm in Rugeley, Staffordshire, has been smouldering since September 2016.
The "large volumes of water" needed to extinguish it have until now risked contaminating the local water course, Staffordshire Fire and Rescue said.
Firefighters will use metal lances to inject water into the heart of the stack to put it out.
The fire service has not confirmed when the blaze will be extinguished, but said they are expected to be on the site for a day.
It said the fire "has now burnt away sufficient wood waste to leave an amount that can be safely extinguished".
Thermal imaging cameras will also be used to ensure that all pockets of the remaining blaze are extinguished.
The fire in Slitting Mill Road was deliberately started as a controlled burn, but later got out of control, creating thick smoke around the area.
Residents had to keep their doors and windows shut 10 days after the fire started on the farmland.
Two men have since been permanently banned from moving materials from the site after a high court injunction was served on them.
Staffordshire Fire and Rescue Service said the responsibility for the site will be returned to the occupier when it was confident the fire has been fully extinguished.