Police called over parent's conduct at 'juice row' school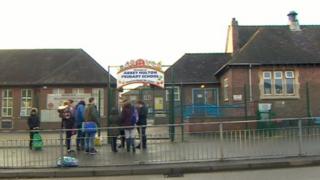 Police have intervened over complaints about the behaviour of a parent outside a school at the centre of a row over packed lunches.
Staffordshire Police said it had asked the parent at Abbey Hulton Primary School in Stoke-on-Trent to be "mindful of their conduct".
The school has declined to comment.
Last week mother Bernadette Finnegan was banned from the school premises after she disagreed with its policy banning unhealthy "juice" drinks.
She claims she was notified of her ban via text message after refusing to omit juice from her children's lunch boxes.
The mother of three, who has two children at the school, said it was unfair that pupils were "forced" to pour their juice away or face losing some of their break time.
She said the school was "discriminating" against children with packed lunches, as unhealthy foods like "chips, cakes and custard" were served as part of hot meals in the canteen.
The 48-year-old is to attend a meeting with the school on Wednesday to discuss the problem.
She added: "I still haven't had the letter from the school explaining why I've been banned.
"I just want to focus on the real issue here and make it fairer for everybody."
A police spokesman said: "The school received a number of complaints about a parent's conduct outside the school gates and contacted their local PCSO [police community support officer].
"The PCSO has spoken to the parent, raised these concerns and asked them to be mindful of their behaviour."