Toilet paper 'now always put out' at Stoke girls school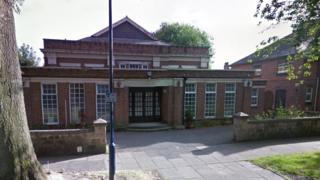 A girls' school where pupils avoided using the toilet because they were forced to ask for paper now routinely puts rolls out, its head teacher said.
Ofsted criticised the independent Park Avenue Girls' High School, in Stoke-on-Trent, saying students sometimes avoided using toilets for a whole day.
Head teacher Abdul Salloo said rolls were now put out at the Muslim school.
He added washing was more common in Asian culture and those facilities had always been available.
Inspectors rated the 34-pupil school as "inadequate" after their inspection.
Ofsted's report said: "Toilet paper is available from the school office when pupils request it.
"Pupils told inspectors that they sometimes avoided using toilets for the whole school day because of this."
Mr Salloo said the school had never meant any harm to its pupils.
"In our culture, Asian culture, we wash, not only wipe. There have always been washing facilities available," he said.
"There were toilet rolls, they were just not always out."
Broken windows
During the Ofsted visit, which took place from 10-12 October, school leaders began to put paper into the toilets, provide soap and suitable drinking water, Mr Salloo said.
Inspectors had noticed these were not always put out.
The report also raised safety concerns, saying rooms accessible to the girls had broken windows and sharp glass.
Fluorescent lights were also uncovered in rooms where pupils were not wearing shoes, which Ofsted said meant they risked injuring their feet.
Mr Salloo said the school was working on a new building and some issues may have been "overlooked" while that was completed.
He said: "There are still a few bits and bobs to be done.
"We didn't mean to harm our children."